Game description OutRun 2006: Coast 2 Coast - PlayStation Portable (PSP)
In the base 750 games PlayStation Portable



---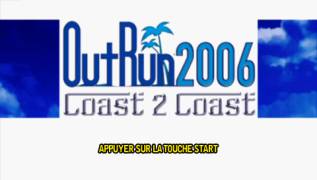 OutRun 2006: Coast 2 Coast
PlayStation Portable - PSP
Cool wind is confused in hair, gentle wings caresses the person and solemnly bears a dust cloak. You & mdash; king. The king of speed and mad risk, the madman violating all traffic regulations and admiring it. Your car is more expensive than several apartments, and your life at a speed over 300 km/h does not cost also a penny, but unless you need the growing decrepit rest?! OutRun 2006: Coast 2 Coast & mdash; a game for those who do not recognize compromises with destiny!
Great racers go to sides, but every instant they perceive existence unlike more sharply than mere mortals. Look at the world eyes of the best of the best daredevils. Experience freshness of paints, juiciness of tones and the exciting light music. You are waited by bewitching coasts, the enormous urbanistic jungle and other memorable landscapes. Do not brake!
Especially for esthetes and gourmets! Three tens routes scattered on different corners of the planet will strike you with greatness and beauty of landscapes. Tropical jungle, brisk city highways, enormous ruins of ancient temples & mdash; OutRun 2006: Coast 2 Coast will satisfy the most exacting taste!
Glance
in the past! OutRun 2006: Coast 2 Coast & mdash; a unique opportunity to get acquainted with the previous parts of a series, a game includes routes from OutRun2 and OutRun2 SP.
High-speed driving is not deprived of sense! Quite concrete tasks are not alien to the Universe of speed and risk. A part of game tasks will be the general for all platforms, and a part is created especially for each console. Do not pass an exclusive!
Bring together by
friends and went! Six people can battle against each other on spacious roads of OutRun 2006: Coast 2 Coast. You do not want to compete? Then combine efforts in the joint mode!
At choice & mdash; dozen & laquo;
---
GAME INFO
---
Game name:
OutRun 2006: Coast 2 Coast
Platform:
PlayStation Portable (PSP)
---