Game description Over the Hedge: Hammy Goes Nuts! - PlayStation Portable (PSP)
In the base 750 games PlayStation Portable



---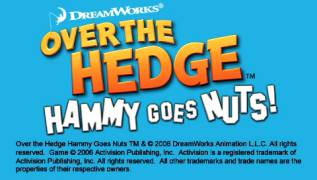 Over the Hedge: Hammy Goes Nuts!
PlayStation Portable - PSP
The magic wood not for long enjoyed the world and rest. A titbit for bastards of all colors, it repeatedly gave worthy repulse to insidiousness. However villains do not even think to recede! The mad catwoman and a cunning beaver Boris considered mistakes of predecessors and prepared the smart plan. To agree peacefully with them it will not turn out! So, four brave friends undertake rescue of a home again!
Familiar heroes come back to screens. This time Hammi, Erdzhey's adventures and Verna will become even more dangerous. Now tactics of defenders of the magic wood is known to enemies and to win a victory, little animals need your help! Go to the fantastic world & laquo; Lesnoy Bratvy». You are waited by new enemies and unexpected allies, huge episodes, serious fights and even fantastic tricks over time! Responsibility for rescue of the wood lies on your shoulders.
Invincible team! Hammi's squirrel, raccoon Erdzhey and a turtle Vern fairly grew up. Their new abilities and receptions will be to the taste both to beginners, and veterans of animation battles from the first part of Over the Hedge.
of Walk on water! Hammi is able to stop time, and in the new mode can drop out of sight enemies, pass through lasers and jump on a water smooth surface. Not a lion, but squirrel & mdash; real king of beasts! > it is better for p not to touch Erdzhey's
! The raccoon armed cap-?-pie will quickly put any tease into place. Boomerang both tenacious and laquo;
---
GAME INFO
---
Game name:
Over the Hedge: Hammy Goes Nuts!
Platform:
PlayStation Portable (PSP)
Developer:
Amaze Entertainment
---