The game - Pac-Man World Rally - PlayStation Portable | PSP
750 games PlayStation Portable



---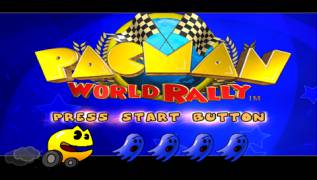 Pac-Man World Rally
PlayStation Portable - PSP
At times, peace and tranquility reign in the oldest virtual universe. In these rare moments, the favorite heroes of boys and girls get together to properly relax and have fun from the heart. This time, the guests are hosted by the famous fidget Pac-Man, who decided to arrange races in his bright world. Each participant is a strong and courageous hero, ready for any challenge for the sake of glory! All racers are worthy of the championship title, and despite the fact that they are all friends, the drivers are ready to fight for victory!
Pac-Man World Rally is a unique opportunity to personally take part in action-packed races. Unforgettable competitions in the world of Pac-Man will charge you with energy and good mood for a long time. Start the tournament with the famous heroes of Namco games, and you will not notice how, overcoming dangers and obstacles, you will travel around the entire magical kingdom and be the first to the finish line. However, remember: in this adventure you will meet not only friends, but also old rivals who will definitely try to disrupt the competition!
Legendary heroes! In addition to the hero of the occasion, fourteen more characters from Namco's most famous games are participating in the races. Each of them has exceptional abilities and is ready to fight for victory!
Forbidden tricks! The tracks are filled with magic pellets, collecting which, the participants become stronger. Special tricks and features will help game-torrento.org leaders to go even further ahead, and the laggards will be given a chance to compete for first place.
Technique on the verge of fantasy! Funny heroes use a variety of vehicles. Buggy, retro cars, sports jeeps and even rockets - all cars develop breakneck speed, and their magic power helps to smoothly enter even the tightest turns!
Familiar places! There are many interesting and, at the same time, dangerous places in the virtual world. Haunted castles, underground caves, laboratories and space asteroids - race tracks are laid everywhere! In Pac-Man World Rally, you will definitely see locations familiar from previous episodes.
---
GAME INFO
---
Game name:
Pac-Man World Rally
Platform:
PlayStation Portable (PSP)
Developer:
Smart Bomb Interactive
Publisher:
Namco Bandai Games
---