The game - Pimp My Ride - PlayStation Portable | PSP
750 games PlayStation Portable



---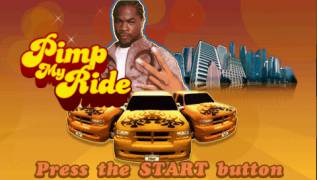 Pimp My Ride
PlayStation Portable - PSP
The streets of Pimp City are restless - speed itself has settled there! Fearless men and women compete in driving skills, flying through the streets with the swiftness of the wind. But in order to achieve recognition and respect of the racers, it is not enough to drive fast. After all, a driver is also judged by his car! Your four-wheeled friend should be brighter, more beautiful and more powerful than the cars of rivals, which means that he needs to be "pumped"!
Street racing and car tuning take on a different, hitherto unseen depth in Pimp My Ride! Take a look at the world of chrome luxury through the eyes of a mechanic who must create a miracle and turn the most ordinary clunker into a real work of art. On the difficult path from the unknown master to the king of autotuning, you are not alone - the legendary Xzibit will help you with advice and will not let you get bored!
Game features:
- New people, old cars! At every stage of your career, Xzibit introduces you to extraordinary, memorable characters. Each of them strives to become champions, but too inconspicuous cars prevent them from achieving fame and success. Your task is to "pump" the car, taking into account the preferences of its owner, and it's not so easy to please capricious dandies!
- Forget ordinary tuning! Alloy wheels with a radius of thirty-two inches, fashionable bumpers and body kits, powerful acoustics - this is just the beginning. To emphasize the individuality of the owner of the car, you will have to look for non-trivial solutions. How about a basketball hoop in the salon? However, there are orders and more difficult ...
- The clock is merciless, step on the gas! It's not enough to "pump" a wheelbarrow with high quality, you also need to do it quickly! But, as always, there are not enough spare parts, so you are in for a fast-paced race through the shops of Pimp City.
You yourself choose the shortest route, but do not forget about competitors! In the fight for a buyer, merchants are ready to harm each other, so get ready for a race to the bottom - agents of someone else's store will try to stop you!
- A good master dances well! To achieve recognition in the world of luxury and style, you need to understand not only cars, but also hip-hop. And if you dance behind the wheel, you will immediately win the hearts of potential customers.
- Meet the true Xzibit! Show business star and host of a popular show in one person accompanies you throughout the game. The singer himself voiced the lines for the virtual alter ego, and also personally included four songs from his latest album in the game's music collection!
---
GAME INFO
---
Platform:
PlayStation Portable (PSP)
---