Game description Pocket Racers - PlayStation Portable (PSP)
In the base 750 games PlayStation Portable



---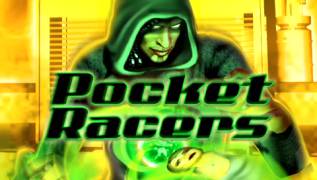 Pocket Racers
PlayStation Portable - PSP
Who knows what is done by demons with whimsical boys? No, the method with a frying pan and the boiling oil is forgotten long ago. Races became new entertainment for inhabitants of the other world. The tiny races of small machines which are taking place in the most usual houses of Earth. The disobedient children reduced to the sizes of insects become participants of competitions just. When behind windows there is the moon, and tired parents will turn off the light, remember what bad you made in a day. If did a lot of mischief seriously, this night will become for you the real Pocket Racers!
Having taken control of soul of the little boy, the demon Nemesis left it only one way to rescue: to win in cruel fight, to come to the finish the first and to remove from itself a paternoster. But black forces will not leave the toy just like that. Besides other children caught by the demon, on your way there will be much more serious rivals. Overcome all difficulties, squeeze out a maximum of the machine! You do not want to fill up a collection of sad souvenirs of the Demon?
Small yes udalenky. Despite the sizes, tiny machines are equipped state-of-the-art. Accelerators on the liquefied nitrogen, rocket installations and even powerful paternosters of mass defeat will help you. In Pocket Racers there are no restrictions!
of the Force of evil will not be released so easily. Nemesis's magic is capable to change or at all to destroy familiar places. The infuriated demon will turn parental kitchen into absolutely unrecognizable place. Be careful!
Vehicle fleet truly infernal sizes. You should test the most different racing race cars and even not so sports cars: jeeps & laquo; four on
---
GAME INFO
---
Platform:
PlayStation Portable (PSP)
---