The game - Pocket Racers - PlayStation Portable | PSP
750 games PlayStation Portable



---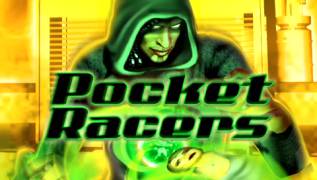 Pocket Racers
PlayStation Portable - PSP
Who knows what demons do to naughty boys? No, the method with a frying pan and boiling oil has long been forgotten. Races have become a new entertainment for the inhabitants of the other world. Miniature races of small cars taking place in the most ordinary houses of the Earth. The contestants are just naughty children, reduced to the size of insects. When the moon appears outside the windows, and tired parents turn off the lights, remember what you did wrong during the day. If you seriously messed up, this night will be a real Pocket Racers for you!
Having taken possession of the soul of a little boy, the demon Nemesis left him only one way to salvation: to win a fierce fight, come to the finish line first and remove the spell from himself. But the black forces will not part with their toy just like that. In addition to other guys caught by the demon, much more serious rivals will stand in your way. Overcome all difficulties, squeeze the maximum out of the machine! After all, you do not want to replenish the collection of sad Demon souvenirs?
Small and remote. Despite their size, miniature cars are equipped with the latest technology. Liquefied nitrogen boosters, rocket launchers and even powerful spells of mass destruction will help you. There are no limits in Pocket Racers!
The forces of evil will not let go so easily. Nemesis' magic can change or completely destroy familiar places. An enraged demon will turn the parent's kitchen into a completely unrecognizable place. Be careful!
The car park is truly infernal size. You have to try out a variety of racing cars and even not sports cars at all: four-by-four jeeps, trucks, high-speed sedans and coupes. Few? Then look for ways to open a huge garage of prize cars!
Play with your friends! Participate in the fight against the forces of evil alone or team up with other PSP owners. Tagging and Soccer tournaments will not let even the most sophisticated company get bored.
---
GAME INFO
---
Platform:
PlayStation Portable (PSP)
---