The game - PoPoLoCrois - PlayStation Portable | PSP
750 games PlayStation Portable



---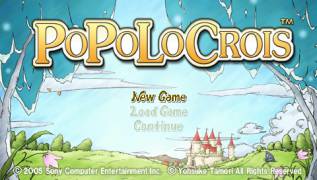 PoPoLoCrois
PlayStation Portable - PSP
Popolocrois for PSP is an action-packed RPG from G-Artists and Ignition Entertainment.
A very long time ago, when dragons ruled the sky, and real fairies lived in the forests, there was a kingdom of Popolocrois on earth. It was powerful and prosperous, until one day a terrible curse fell on the whole country. Where once there were green meadows, a lifeless icy desert appeared ...
The cause of the misfortune was the terrible Ice Demon who attacked Popolocrois with his servants - four wizards. The inhabitants of the kingdom could not resist them, and almost lost hope of salvation when a huge dragon appeared in the sky above Popolocrois. He fought the Demon and banished him - as it seemed, forever. 10 years have passed since then...
Features of the game Popolocrois for PSP :
Fascinating plot, brave heroes and insidious opponents.
Extensive detailed world, gorgeous 2D graphics and colorful anime screensavers.
Intuitive combat system familiar to veterans of the genre and easy to master for beginners.
Over 30 hours of gameplay.
---
GAME INFO
---
Platform:
PlayStation Portable (PSP)
---