The game - Prince of Persia: Revelations - PlayStation Portable | PSP
750 games PlayStation Portable



---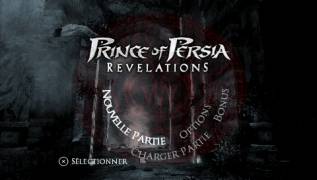 Prince of Persia: Revelations
PlayStation Portable - PSP
This game is a continuation of the Prince's adventures in Prince of Persia: The Sands of Time.
In this part, the prince finds himself in the role of a victim of Dahaka, the immortal incarnation of Fate, seeking retribution against the young Persian. The prince is destined for a quick death, and he enters into a fight with fate. During his journey, he finds himself in the infected heart of the cursed island, in a castle where all human fears are concentrated.
Only a person of royal blood, moreover, possessing an outstanding arsenal of weapons, combat techniques and combos, will be able to break the evil spell and, by changing his fate, bring liberation to humanity.
New levels, new enemies and new secrets. It's worth seeing, it's worth playing!
---
GAME INFO
---
Game name:
Prince of Persia: Revelations
Platform:
PlayStation Portable (PSP)
Developer:
Pipeworks Software
---