The game - Prinny: Can I Really Be the Hero? - PlayStation Portable | PSP
750 games PlayStation Portable



---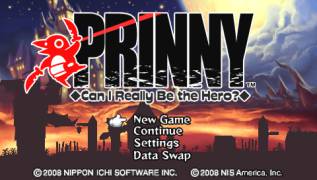 Prinny: Can I Really Be the Hero?
PlayStation Portable - PSP
The game is an offshoot of the famous turn-based RPG Disgaea, starring the unfortunate penguin "Prinny" who will complete tasks in the Underworlds.
Etna, upset over stealing her favorite sweets, sends Prinny's army to find sweets. As an advance, the demon lord bestows a red scarf and handbag on her subordinates. The bottom line is this: if a Prinny dies during a mission, the scarf and purse go to the next Prinny. In total, Etna has 1000 penguins at its disposal.
---
GAME INFO
---
Game name:
Prinny: Can I Really Be the Hero?
Platform:
PlayStation Portable (PSP)
Developer:
Nippon Ichi Software
Publisher:
Nippon Ichi Software
---