Game description Prinny: Can I Really Be the Hero? - PlayStation Portable (PSP)
In the base 750 games PlayStation Portable



---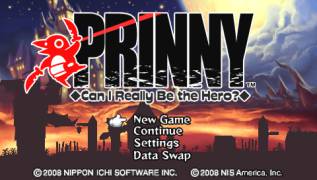 Prinny: Can I Really Be the Hero?
PlayStation Portable - PSP
A game is a branch from the known step-by-step RPG Disgaea where the major role is played by an unfortunate pingvinchik & quot; Prinny" who will perform tasks in the worlds Beyond the grave.
Etna upset with theft of favourite candies recalls Prinni's army on searches of sweets. As advance payment the sovereign of demons grants to the subordinates a red scarf and a handbag. An essence here in what: if Prinni during the mission perishes, the scarf and a handbag pass to the following Prinni. In total at the disposal of Etna 1000 penguins.
---
GAME INFO
---
Game name:
Prinny: Can I Really Be the Hero?
Platform:
PlayStation Portable (PSP)
Developer:
Nippon Ichi Software
Publisher:
Nippon Ichi Software
---