The game - Rengoku II: The Stairway to Heaven - PlayStation Portable | PSP
750 games PlayStation Portable



---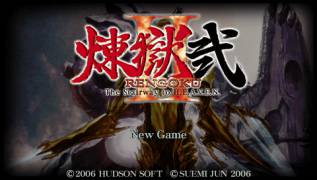 Rengoku II: The Stairway to Heaven
PlayStation Portable - PSP
ADAM combat vehicles were created by mankind during the great war. Not tired, not knowing fear and pity, they have become ideal murder weapons for the new millennium. They regularly defended their creators. They never condemned humanity, taking death for granted. It turned out - in vain. Peacetime quickly erased from the memory of people everything that the cyborgs gave them. Former defenders have become a toy in the hands of a newly prosperous civilization. The ADAM units were sent to Rengoku Tower to be part of the ongoing show of war. To die not for protection, but for the joy of the owners - such was the new destiny of every ADAM who survived the war ... A destiny with which one of them did not agree.
The technogenic action movie invites you to plunge into the world of a gloomy post-war future. Endless battles in the tower of death, serious opponents, most recently former partners, a deadly weapon that can destroy any enemy; and justice, which lies at the end of a difficult path. Take part in the brutal reality show of the future! Help ADAM find his lost paradise!
Strive for excellence! A rapidly changing environment will require remarkable ingenuity! To win, you will have to improve your hero. Run faster, jump higher, shoot more accurately - do your best to get out of Hell!
Crush everything! Most environmental items can be destroyed. High detail makes the levels not just beautiful, but truly alive!
Heroes need to be known by sight. The characters are created by renowned artist Jun Suemi. The main characters are truly unique. Their behavior and characters will be remembered for a long time!
Universal method of war. The combat system can be improved, bringing to the ideal all types of attacks. After a while, your ADAM will be unstoppable!
Four in one war. Invite your friends and join PSP online! Up to four players can participate in battles at the same time!
Exclusive music. Especially for Rengoku 2: The Stairway to HEAVEN, the developers invited the famous composer Chan Kwong Wing. The music he wrote highlights the grim picture of a post-apocalyptic future.
---
GAME INFO
---
Game name:
Rengoku II: The Stairway to Heaven
Platform:
PlayStation Portable (PSP)
---