The game - Resistance: Retribution - PlayStation Portable | PSP
750 games PlayStation Portable



---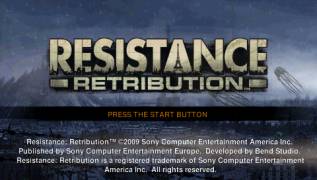 Resistance: Retribution
PlayStation Portable - PSP
Resistance: Retribution brings the famous Resistance universe to the handheld PlayStation Portable. Now the entrance to the cruel gloomy world will always be at your fingertips. However, this journey into the monstrous reality does not repeat past adventures. New story, weapons, levels and enemies await you, while advanced graphics technologies bring the PSP to its full potential, rendering spectacular, detailed battles on screen.
Resistance: Retribution takes place a few weeks after the tragedy described in Resistance: Fall of Man. On behalf of the British Marine James Grayson, you have to avenge the enemy for the death of your brother and take part in the fight for the entire European continent, along with Cartwright and Parker. Dramatic events, vivid characters, epic battles - all these features, characteristic of the Resistance duology on PS3, have been adopted by the "portable" Resistance: Retribution.
Game features:
>The missing link. Resistance: Retribution links the events of Resistance: Fall of Man and Resistance 2.
> Story-driven drama. A global battle for the European continent unfolds on the screen, but at its center lies the personal tragedy of the protagonist, who lost his brother and yearns for revenge.
>Technical progress. Retribution uses the third generation of the graphics engine created by the Bend studio. New technologies provide more enemies on the screen, more spectacular effects, as well as a more spacious and detailed world.
>aimed fire. A new third-person shooting system has been created specifically for the PSP. There will be no problems with management!
> Play at any time. Save checkpoints occur frequently enough that the game can be launched briefly at any convenient time.
>Deadly arsenal. The list of weapons included all the best models from Resistance: Fall of Man. At your service as traditional Auger, Carbine and LAARK, and hybrid BM001 Razor and Longbow 1S-1K.
>Dangerous opponents. Among the enemies you will meet both old acquaintances that appeared in previous episodes of Resistance, and completely new monsters. Among the latest Hag and Cloven, and from the already seen creatures in the game will appear Titan, Slipskull, Hybrid and Leaper.
>Network battles for every taste. You can face off in multiplayer game modes including Team Deathmatch, Capture the Flag, Containment and Assimilation. The maximum number of participants is eight people!
---
GAME INFO
---
Game name:
Resistance: Retribution
Platform:
PlayStation Portable (PSP)
Publisher:
SCEI/SCEA/SCEE
---