Game description Riviera: The Promised Land - PlayStation Portable (PSP)
---
---
---
---
In the base 750 games PlayStation Portable



---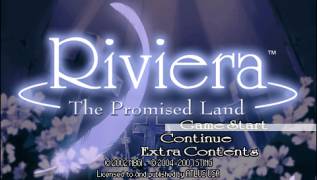 Riviera: The Promised Land
PlayStation Portable - PSP
There passed more 1000 from the moment of Ragnarok & ndash; Great war between Asgard, house of Gods, and Utgard, haven of demons. For quite some time now the wandering island Riviera began to give signs of presence of demons again. Unfortunately, Gods are not present at this world any more, and the next Ragnarok threatens to plunge life on the planet into chaos.
game Riviera Plot: The Promised Land will tell about valorous heroes - Grim Angels Ein and Ledah which ventured to resist to the World Evil. And you should carry out them through all obstacles and difficulties in a way to accession of the world in the planet.
of Riviera: The Promised Land:
- Excellent graphic execution, and also the exclusive levels developed especially for the PSP platform;
- Intuitive management will help you to plunge into a game from first minutes;
- the Fascinating and fascinating plot will not release you for a minute from game process;
- the Innovative control system of fight includes various opportunities for each character;
- the Qualitative soundtrack.
---
GAME INFO
---
Game name:
Riviera: The Promised Land
Platform:
PlayStation Portable (PSP)
Developer:
Sting Entertainment
---