Game description Shining Hearts - PlayStation Portable (PSP)
In the base 750 games PlayStation Portable



---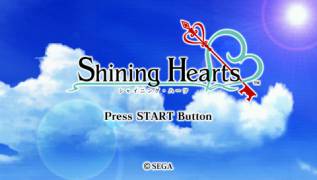 Shining Hearts
PlayStation Portable - PSP
Shining Hearts for PSP - & nbsp; jRPG from SEGA. This time the company decided to refuse from, already tired lately, a format a Shining series game, and decided to try return of a series to sources in Shining Hearts. What gives not sickly hope! There is a wish to see Shayning though a little similar to classics with which began acquaintance to a series.
Once the little girl by the name of Kaguya washed a storm ashore islands Vindaria. She unexpectedly meets Ric, the fighter who works in a local bakery.
of Kaguya suffers from anguish from the fact that lost memory and the emotions, and usually peace Vindariya was captivated by the pirates ransacking in search of a magic stone which hangs on a neck of Kagui. Ric and his colleagues Nellis, Emil and Airi decide to bring the world on the island again and to help Kagui to return her memoirs and emotions.
---
GAME INFO
---
Game name:
Shining Hearts
Platform:
PlayStation Portable (PSP)
---