Game description Shrek the Third - PlayStation Portable (PSP)
In the base 750 games PlayStation Portable



---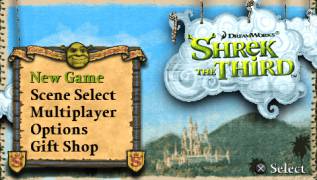 Shrek the Third
PlayStation Portable - PSP
The cult hero of animated films comes back! In the third part of adventures of Shrek familiar characters get to even more fascinating adventures, struggle with artful villains and prepare for arrival of the new king of the Faraway kingdom! But who will appear him: spiteful Prince charming or national favourite Shrek? This time you not only will see the fascinating fairy tale on the screen, but also will play in it a crucial role!
In the magic kingdom fantastic events take place. The main character, the good-natured cannibal Shrek, married the princess Fiona and now is going to become the governor! But artful Prinze, having secured with support of a knightly award, decides to take by force a throne. Whether loyal friends will be able to pass hard tests & mdash; now depends only on you. Plunge into improbable adventures together with legendary heroes!
Famous characters. You will meet all heroes of the previous parts of the animated film, and also will get acquainted with new characters. The donkey, the Puss in Boots, Shrek, the princess Fiona, the Sleeping Beauty and many others will lighten the mood the unforgettable jokes!
Unique receptions. Each character is allocated with unique abilities. Only joint efforts will allow friends to overcome the usurper to live long and happily. Strength of the cannibal Shrek, Ekskalibur of the king Artur, fighting receptions of Fiona and & laquo;
---
GAME INFO
---
Game name:
Shrek the Third
Platform:
PlayStation Portable (PSP)
Developer:
Amaze Entertainment
---