The game - Sol Trigger - PlayStation Portable | PSP
750 games PlayStation Portable



---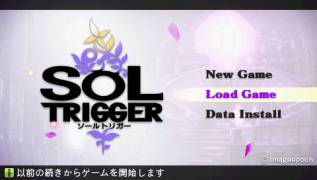 Sol Trigger
PlayStation Portable - PSP
SOL Trigger for PSP takes place in the far future in the glittering town of Kaiserhald. The city gained strength and power by controlling the "sol" energy, which allows it to create miracles.
SOL Trigger is at odds with the Techno Church (Machine Church), which seeks to assemble energy in frightening ways, extracting it from the inhabitants of the country.
Cyrille is the youngest member of SOL Trigger at only 9 years old. She is a genius at harnessing Sol's energy. But in her heart she is an ordinary child, with a vulnerable and innocent soul, despite the heavy burden of responsibility that lies on her shoulders.
---
GAME INFO
---
Platform:
PlayStation Portable (PSP)
---