The game - Sonic Rivals 2 - PlayStation Portable | PSP
750 games PlayStation Portable



---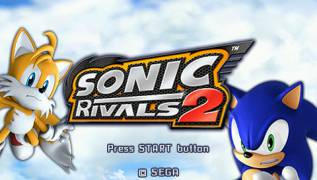 Sonic Rivals 2
PlayStation Portable - PSP
Being a superhero is incompatible with rest. Who better than Sonic to know this? As soon as the famous hedgehog was going to run with his friends for his own pleasure, how peaceful competitions turned into a deadly race. Now, to gain the upper hand, speed is not enough. Sonic is obliged to skillfully bypass numerous traps, overcome obstacles and even fight his rivals right on the run.
Footboards, pokes, somersaults - there are no forbidden tricks. But if the blue hedgehog is fighting for his life and peace in the universe, then you and a friend can run a race just out of sports excitement. The absence of any rules gives a piquancy to the tough competition, which is deprived of the usual "Olympic" running. It doesn't matter what size you are or how trained your lungs are: in Sonic Rivals, it's all about skill and reaction!
There isn't enough space for two! Compete with a friend or a virtual opponent. Remember, only one of the two athletes who started at the finish line has a place. And do not expect concessions from computer runners - they behave as boldly and aggressively as live opponents.
Look under your feet! A fully three-dimensional environment is fraught with a lot of insidious surprises. Watch carefully where you put your foot: on the road you will meet a lot of ingenious traps and various obstacles.
Sonic comrades! You are not alone in this race. In addition to Sonic, there are three more heroes to choose from, each of which has its own past, its own destiny and its own role in a dangerous competition. The winner and the cards in hand! As a reward for successful races, you get unique cards with which the hero acquires new abilities. Having collected a complete collection of prizes, you will turn the hero into Superman! And if there is not enough rare card for the set, it is always allowed to exchange it with a friend - just connect the consoles via WiFi wireless science.
---
GAME INFO
---
Game name:
Sonic Rivals 2
Platform:
PlayStation Portable (PSP)
Developer:
Backbone Entertainment
---