Game description Spider-Man 2 - PlayStation Portable (PSP)
In the base 750 games PlayStation Portable



---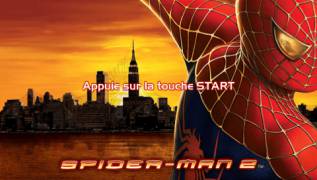 Spider-Man 2
PlayStation Portable - PSP
The superhero the Spiderman continues the crusade against crime. The heroic alter ego of the ordinary resident of New York Peter Parker who fell a victim of a sting of a spider and an unsuccessful scientific experiment does not know rest. The fighter against the evil is waited by new adventures, new opponents and the mega-villain by the name of Doc Ock.
the Game Spider-Man 2 for PSP is created by
based on the comics of Marvel publishing house of the same name and the Hollywood blockbusters Spider-Man and Spider-Man 2.
of Feature of a game:
- Persons interested to feel the Spiderman are waited by 19 fascinating game episodes, both already known according to movies and comics, and created especially for a game.
- Action is developed on virtual streets of New York which are full of criminals.
- the Hero will be able to jump on skyscrapers, to clamber on walls of buildings and to move across Manhattan in search of villains.
- you will be able to entangle criminals a web and to strike the combined blows. The quicker and more effectively the player will win against bandits, the level & laquo will rise above;
---
GAME INFO
---
Platform:
PlayStation Portable (PSP)
Developer:
Vicarious Visions
---