The game - Spider-Man 2 - PlayStation Portable | PSP
750 games PlayStation Portable



---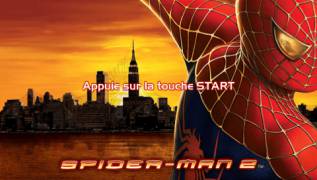 Spider-Man 2
PlayStation Portable - PSP
The superhero Spider-Man continues his crusade against crime. The heroic alter ego of an ordinary New Yorker, Peter Parker, who was the victim of a spider bite and an unsuccessful scientific experiment, does not know peace. The fighter against evil is waiting for new adventures, new opponents and a mega-villain named Doc Ock.
Spider-Man 2 for PSP is based on the Marvel comics of the same name and the Hollywood blockbusters Spider-Man and Spider-Man 2.
Game features:
- Those who want to feel like Spider-Man are waiting for 19 exciting game episodes, both already known from films and comics, and created specifically for the game.
- The action takes place on the virtual streets of New York, which are full of criminals.
- The hero will be able to jump on skyscrapers, climb the walls of buildings and move around Manhattan in search of villains.
- You will be able to entangle criminals with cobwebs and inflict combined blows. The faster and more spectacular the player will defeat the bandits, the higher the level of "heroism" will rise and the more new combined techniques will become available to him. As a result, with each new fight, the fights with the villains will become more interesting and furious.
- Spider-Man will have to fight against anti-heroes familiar to fans of Marvel comics - Mysterio, Shocker, Reno. Specially for the PSP-version of Spider-Man 2, a unique flying villain Grif was created.
---
GAME INFO
---
Platform:
PlayStation Portable (PSP)
Developer:
Vicarious Visions
---