Game description Spinout - PlayStation Portable (PSP)
In the base 750 games PlayStation Portable



---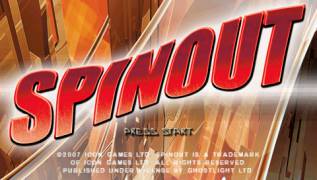 Spinout
PlayStation Portable - PSP
The most fascinating game & laquo is presented to your attention; Spinout» for psp, being fascinating races of spheres which you should operate, overcoming various barriers.
Actually it is one of kinds of a legendary game on the personal computer & ndash; & laquo; Balance» only with even more qualitative graphics, well thought over gameplay and the realistic physics of the movement of a sphere perfected to perfection.
Main features of the game Spinout:
The feeling of height taking the breath away in a combination to the rapid movement of a sphere will not leave to
At the same time can play up to four people in multiplayer game.
Try the hand on 54 dizzy routes in four types of arrivals against the background of a colourful interactive environment.
An opportunity to exchange the achievements with with the friends on WIFI network.
Spectacular system of damages of a sphere to a combination by modern graphic special effects also laquo make a game; Spinout» for psp the real hit.
---
GAME INFO
---
Platform:
PlayStation Portable (PSP)
---