The game - SpongeBob SquarePants: The Yellow Avenger - PlayStation Portable | PSP
750 games PlayStation Portable



---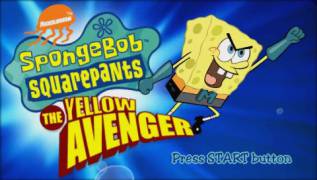 SpongeBob SquarePants: The Yellow Avenger
PlayStation Portable - PSP
The popularity of the animated series SpongeBob SquarePants has long exceeded all conceivable limits. Despite the fact that it was originally designed for children, adults watch it with no less pleasure. During his short life, the square hero acquired a full-length cartoon, hit the pages of comics and filled the shelves of children's stores with his copies from all conceivable materials. His participation and games did not pass.
The underwater town of Bikini Bottom has never spoiled its inhabitants with tranquility. So this time, a whole flock of small red balls sank to the bottom and captured the minds of its inhabitants - now they are only able to run from corner to corner, waving their fins. The situation could be saved by local superheroes in the person of Mermaid Man and his faithful assistant Barnacle Boy. But even those were kidnapped by unknown villains, and Sponge Bob had to clear up the porridge.
From the very first minutes of meeting The Yellow Avenger makes it clear that it will be very difficult to do without knowledge of the English language. Despite belonging to the "platformer" genre, great attention is paid to communication - rich dialogues follow one after another, there is no way to miss them. It is not necessary to read all the texts in their entirety - it is enough just to capture the meaning and content of the given tasks. However, there is one problem: all the humor with which the series is thoroughly saturated is hidden in conversations, and ignoring them leads to the fact that the project loses almost most of its charm.
---
GAME INFO
---
Game name:
SpongeBob SquarePants: The Yellow Avenger
Platform:
PlayStation Portable (PSP)
Developer:
Tantalus Media
---