The game - Star Ocean: First Departure - PlayStation Portable | PSP
750 games PlayStation Portable



---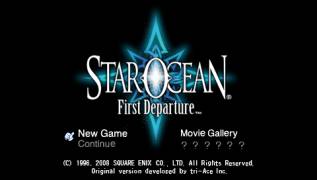 Star Ocean: First Departure
PlayStation Portable - PSP
Star Ocean, released back in 1996, has never been officially released outside of Japan before. Star Ocean: First Departure is a remake of an imperishable hit, the greatness of which for the first time can be appreciated by players in Russia, Europe and the USA. It differs from the original with completely redrawn backgrounds, an improved combat system and several new characters. However, the unusually exciting story has migrated to the new game unchanged - space adventures await!
Cosmic date 346. Planet Roak. Soldiers of the city garrison Roddick, Milly and Dorn go on another boring patrol. Only a few minutes remain before the catastrophe ... A strange plague falls on Roak like snow on his head. People one by one begin to turn into stones. Only miraculously manages to pick up the patrolmen on board the reconnaissance ship of the Earth Federation. Roddick and his associates learn that the monstrous epidemic is far from being an accident, but a deliberate attack using biological weapons. But who is behind it and how to save the planet?
The beginning of a cult saga. The events that you will become a participant in Star Ocean: First Departure marked the beginning of a whole space saga. By getting to know the characters and story of the original game, you can get a better idea of ​​the entire virtual universe of Star Ocean.
Clear combat system . Understanding the basic principles of Star Ocean: First Departure is not at all difficult, but there is enough depth in the combat system for complex and diverse tactical decisions.
Refreshed look. The game uses a modified version of the Star Ocean: The Second Story graphics engine, as well as brand new backgrounds and 3D battlefields. What's more, you'll get new characters and animated intros created and voiced exclusively for First Departure.
Do it yourself. Star Ocean: First Departure has a toolkit for creating your own weapons and other items useful in combat.
---
GAME INFO
---
Game name:
Star Ocean: First Departure
Platform:
PlayStation Portable (PSP)
---