The game - Star Wars: Lethal Alliance - PlayStation Portable | PSP
750 games PlayStation Portable



---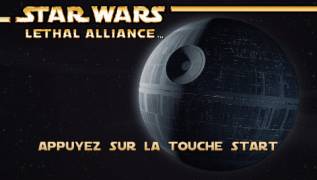 Star Wars: Lethal Alliance
PlayStation Portable - PSP
Star Wars: Lethal Alliance is a new Action/Adventure designed exclusively for the next generation of handheld consoles. The action plunges the player deep into the plot, which tells about the events taking place between the third ("Revenge of the Sith") and the fourth ("A New Hope") episodes. Players will play co-op as Twi'lek Riana Serena and her security droid Zio at the same time. In the service of the Rebels, this deadly duo must clear planets controlled by the empire and fight legions of sinister zealots. The main goal of the heroes is to uncover the most dangerous secret of the empire, the Death Star.
"Ubisoft is proud to announce the release of such a compelling and unique Star Wars game, the first game in the legendary series built with PSP in mind..." said Serge Hascot, Senior Creative Manager. "We've worked closely with LucasArts to create a game that expands on the Star Wars universe and unlocks secrets that have haunted fans for decades."
Star Wars: Lethal Alliance features include:
Unique Co-op Combat Mode: Your team is virtually invulnerable by combining Riana's elite arsenal and acrobatics with Zio's versatile defensive capabilities. Only by working together will you be able to complete dangerous missions and eventually steal the plans for the Death Star.
Action with a grandiose plot in the style of the best action films. From the chaotic planet of Coruscant to the perilous dusty alleys of Mos Eisley, Riana and Xio must use numerous tricks to accomplish mission objectives: set up holographic projectors to deceive Imperial guards, operate stationary weapons, run a hair's breadth from enemy traps, and fight against bloodthirsty monsters.
Legendary landscapes and heroes. You will have to complete missions in such classic locations as the Death Star and Tatooine, as well as open unknown territories in parallel on Despair, Danut and Alderaan. Everywhere you will meet with the unforgettable heroes of Star Wars.
---
GAME INFO
---
Game name:
Star Wars: Lethal Alliance
Platform:
PlayStation Portable (PSP)
Developer:
Ubisoft Montreal
---