The game - Street Supremacy - PlayStation Portable | PSP
750 games PlayStation Portable



---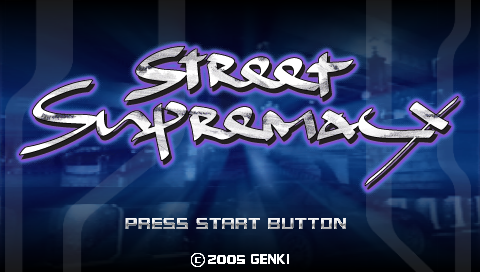 Street Supremacy
PlayStation Portable - PSP
During the entire existence of the PSP, a lot of high-class racing saw the light, but, perhaps, only now the pocket entertainment system has come so close to the "older" brothers. Street Supremacy embodies all the best that is in the PSP - the project looks so high quality and sporty. Excellent graphics, a great sense of speed and unbridled passion are ready to compete with the most famous hits in the world of video games.
Street Supremacy invites you to the world of ultra-fast cars, huge night cities, expensive tuning and high stakes. The payoff for losing can be life itself! But it is the risk that gives the competitions piquancy, gives them romance and a unique taste of adrenaline.
Taste the adrenaline! Take part in single or group knockout races, fight for precious points at each stage, sink the pedal and make the speedometer needle go around the second circle. Adrenaline flows through the streets of Street Supremacy!
All life is a highway. The highway is fifteen sections long. For the victory on each of them you will have to give all your strength. The champion will be the one who takes the lead in the overall standings.
Formula Supremacy team. Only coordinated actions of the whole team will bring results. Five on five in the fight "to fly" is a real test of strength. But if you are still a loner - welcome to the world of high-speed duel. The best racers are ready to challenge you.
Choose a car without looking at the price. The most expensive and fastest race cars from the world's leading manufacturers are available to you just for virtual money. Concerns Nissan, Mitsubishi and Subaru generously shared their licenses with the developers.
Did the speedometer needle cross 300? It would be nice to accelerate to the fourth! The maximum speed and acceleration dynamics change as the cars are "pumped". Put new engines and body kits, the prize will pay off the costs!
Play with your friends, play better than them. Connect your PSP to a friend's console and set your own rules. The grimace of a defeated comrade is always more pleasant than the inscription "You won!"
---
GAME INFO
---
Game name:
Street Supremacy
Platform:
PlayStation Portable (PSP)
---