The game - Tales of Eternia - PlayStation Portable | PSP
750 games PlayStation Portable



---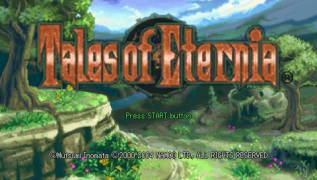 Tales of Eternia
PlayStation Portable - PSP
One day, during a forest walk, a young hunter Reed and his girlfriend Fera discovered a destroyed aircraft, presumably from another planet, in which they found the mysterious girl Meredi, who did not understand a word of the language of Inferia (their home world), was dressed in strange clothes and even her skin was much darker than that of the Inferians. The friends decided that the girl needed help (and for this, for a start, at least understand the language she speaks) and take her to her scientist friend, who, in theory, was supposed to know the native language of the stranger, but the consequences of their altruism exceeded all expectations .. .
Here is the continuation of the famous series "Tales of" from Namco, which debuted on the PSOne console in 2001. Despite its age, the game is still relevant now, especially since the PSP version has some innovations waiting for you. A distinctive feature of the series is the combat system - the battles take place in real time and resemble the classic two-dimensional fighting game, which, however, does not distract you from the main attractions of the Japanese RPG - the study of the plot and the exploration of the world. As always in the games of this series, Tales of Eternia has a lot of side quests and hidden storylines associated with them, which will become available to you at certain points in the game. The choice of equipment and weapons is also very large.
If you have not been familiar with this game before, or just want to take a look at one of the most original representatives of the genre, then this RPG is for you!
---
GAME INFO
---
Game name:
Tales of Eternia
Platform:
PlayStation Portable (PSP)
---