Game description The Lord of the Rings: Tactics - PlayStation Portable (PSP)
In the base 750 games PlayStation Portable



---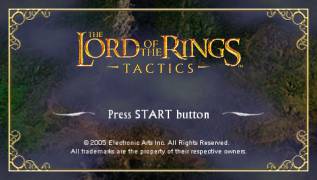 The Lord of the Rings: Tactics
PlayStation Portable - PSP
& laquo; Lord of Kolets» victoriously strides on all platforms. Lord of the Rings Tactics reproduces in the virtual world of an event both movies, and books. Tactical role-playing game will open a gate to the huge, amazing world of magic and adventures directly at you on a palm.
Action of a game is developed by
during War of the Ring. You are waited by a desperate travel to heart of Mordor where in the center of a huge cave the infernal copper rages. Only having drowned the Ring in the boiling magma, it is possible to return the world and rest to Sredizemye. But if you were tired of a good celebration, go over in ranks of sauronovy troops, head an expedition on liquidation of Fellowship of the Ring.
Sredizemye's Present waits for you! Favourite heroes and memorable places come to life on the PSP screen where you were.
to support
of Whom and with whom to be at war also mdash; to solve to you. The player is free to go to a way with Fellowship of the Ring or to head the host sauronova which are started up on a trace of brave hobbits, people, the gnome and the elf.
of Lord of the Rings: Tactics not for nothing is called also as laquo; RPG». Detailed system & laquo;
---
GAME INFO
---
Game name:
The Lord of the Rings: Tactics
Platform:
PlayStation Portable (PSP)
Developer:
Amaze Entertainment
Publisher:
Electronic Arts
---