The game - Tiger Woods PGA Tour 07 - PlayStation Portable | PSP
750 games PlayStation Portable



---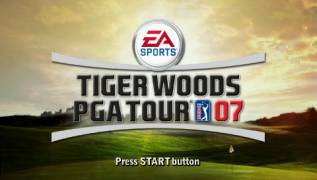 Tiger Woods PGA Tour 07
PlayStation Portable - PSP
Golf has long ceased to be a pastime of the aristocracy. Balls and clubs are in fashion today, owning them is a good form rule. For all its seeming complexity, golf is accessible to everyone. The main thing is not to rush and think through the actions, as in a chess game. After all, you need to take into account many factors: the shape of the club, the direction of the wind, the type of surface and even the angle of the grass!
Tiger Woods PGA Tour 07 features the spacious greens of some of the world's most luxurious golf courses. You will be able to challenge the championship of the most skilled players on the planet. And if you are just getting acquainted with golf, an experienced and patient instructor will help you to comprehend its basics. Start your career in fashion sports with the Tiger Woods PGA Tour 07!
Hard in teaching, easy in a responsible tournament! Complete all levels of training in the countryside fields and get access to serious competitions.
Only "star" rivals! Play with the strongest athletes, including the legendary masters Tiger Woods and Vijay Sing. Attention: Luke Donald, John Daley and Ian Poulter will also honor you in the 2007 season!
Only the best golf courses! Tiger Woods PGA Tour 07 features some of the world's most iconic competition arenas. You will personally appreciate all the advantages and disadvantages of Bethpage Black, Cog Hill, Pinehurst #2, Riviera and Fancourt Links. In the new season, the list was replenished with the Central Park court.
Only accurate shots! Advanced control allows you to perform the most difficult shots. You can spin the ball and even anticipate where it will roll after it hits the ground. However, these subtleties have yet to be learned.
Only hot details! Matches are accompanied by television broadcasts, high-profile victories and deafening defeats will not go unnoticed by the press. Pave the way to the hearts of millions of fans through live television!
Meet players from all over the planet! By launching the online mode, you will find partners for the match from different countries and even from other continents! You can arrange competitions with three participants at once or play one on one.
Tired of big sport? Owners of the PSP version of Tiger Woods PGA Tour 07 will be able to take a break from serious competition. Fun mini-games Shooting Galleries and Driving Ranges have been created especially for the portable console.
---
GAME INFO
---
Game name:
Tiger Woods PGA Tour 07
Platform:
PlayStation Portable (PSP)
---