The game - Bomberman Land - PlayStation Portable | PSP
750 games PlayStation Portable



---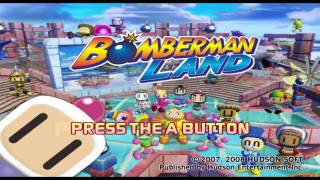 Bomberman Land
PlayStation Portable - PSP
50 mini-games - no joke? Test your skills in mini golf or other sports mini-games... Or do you want something else? Then jump into the river and try the "Swim and Run" game. Among 50 unusual, entertaining mini-games, everyone will find something for themselves. There is also a special shop where you can dress the character to your liking.
Huge adventure. Bomberman's world has fallen apart due to evil aliens and now Bomberman must collect all the pieces of the world and put his world back together.
Classic Bomberman battle! 47 stages and 5 different battle modes! But multiplayer is even better!
Competition over Wi-Fi. In a classic arcade battle, one on one or in a mini-game. Multiplayer supports up to 4 players, and for the game it is enough to have only one version of the game.
---
GAME INFO
---
Game name:
Bomberman Land
Platform:
PlayStation Portable (PSP)
---