Game description Tom Clancy's Rainbow Six: Vegas - PlayStation Portable (PSP)
In the base 750 games PlayStation Portable



---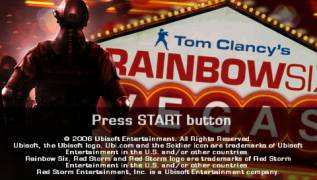 Tom Clancy's Rainbow Six: Vegas
PlayStation Portable - PSP
The American capital of entertainments became a new target for extremists. The terrorist hydra long hid the heads behind the sparkling signs of bars and casino of Las Vegas, and now is ready to strike blow. Sin City will fall the first victim of an unknown wave of diversions which will forever change the image of the modern world. When time for prevention of accident already on an outcome, and the account goes for minutes, field investigators of Rainbow Six get down to business. The elite special forces are faced by almost impracticable task & ndash; to save the multimillion city from elimination.
of Feature of a game:
- the New game & ndash; new heroes! In Rainbow Six group replenishment & ndash; operate division which each fighter is allocated with unique skills;
- the Saturated tactical component;
- Full immersion in game process & ndash; briefings of missions in real time in the middle of street fights;
- Advanced animation of game characters;
- Artificial intelligence of new generation;
- New opportunities of a multiplayer! Create the unique character for a network game.
---
GAME INFO
---
Game name:
Tom Clancy's Rainbow Six: Vegas
Platform:
PlayStation Portable (PSP)
Developer:
Ubisoft Montreal
---