The game - Tomb Raider: Anniversary - PlayStation Portable | PSP
750 games PlayStation Portable



---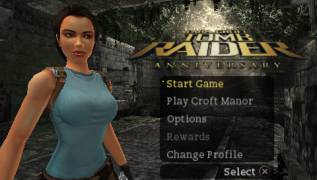 Tomb Raider: Anniversary
PlayStation Portable - PSP
In Tomb Raider: Anniversary, players return to the events of Lara's very first adventures. While still very young, the heroine makes a deal with a powerful crime syndicate and undertakes to find the mystical Saien artifact. But realizing that she has become just a pawn in someone's sinister plan, Miss Croft decides to take matters into her own hands! What the ancient relic really is, and what fate awaits its owner - the answers should be sought in the gloomy catacombs!
Ten years of history. Over the long history of Tomb Rider, the capabilities of consoles have grown significantly, and the new project is an excellent confirmation of this! Tomb Raider: Anniversary rightfully becomes the "anniversary" game of the series!
Acrobatics save lives. In search of the artifact, Lara will need not only weapons, but also remarkable dexterity. After all, having disturbed the peace of the underworld, she brought upon herself dangers that ordinary people do not even know about!
New routes. Many episodes of the first part of Tomb Rider - such as adventures in Peru, Greece and Egypt - have been significantly expanded in Tomb Raider: Anniversary.
Ancient reptiles. Caves and temples remote from civilization have become a haven for dangerous predators. However, in addition to bears, alligators and other wild animals, Lara Croft is waiting for much more deadly creatures. Creepy monsters and real dinosaurs - that's who you really should be afraid of!
Be alert. If even wild animals and prehistoric predators can bring many surprises, then what can we say about people! The new artificial intelligence of the game allows enemies to attack in a group, surround and use the effect of surprise. Never before in the Tomb Raider series have there been such fierce battles!
Travel together! Especially for the PSP version, two exciting modes have been created that allow you to play together with a friend. In the Master Challenge Mode, participants will have to go through routes with various obstacles for a while, competing in agility and speed. In Raid 'n' Seek Pro Mode, one player collects artifacts and searches for secrets, while the second tries to prevent the enemy with the help of traps and good old-fashioned pistols. Take part in dangerous competitions and find out which one of you is the real Tomb Raider!
Unique Rewards! For the successful completion of the episodes, PSP owners will receive a lot of pleasant surprises and bonuses. An exclusive collection of pictures, puzzles, 3D desktop images, various menu themes, as well as unique compositions and costumes for Lara Croft are waiting for you!
---
GAME INFO
---
Game name:
Tomb Raider: Anniversary
Platform:
PlayStation Portable (PSP)
Developer:
Crystal Dynamics
Publisher:
Eidos Interactive
---