The game - Tomb Raider: Legend - PlayStation Portable | PSP
750 games PlayStation Portable



---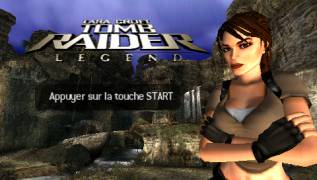 Tomb Raider: Legend
PlayStation Portable - PSP
Years are rapidly rushing forward, technology is galloping, people are aging, and she is only getting prettier every day. She is the unchanging sex symbol of the virtual world. Movies are made about her and, more importantly, games continue to be made. They shot at her, tried to kill her, even, it seemed, they killed her, but the beautiful tigress with a model appearance and Nordic disposition is too tough a nut to meekly sink into oblivion. Lara Croft is back! And with it, incredible adventures return to the most exotic corners of the planet. Miss Croft has always kept pace with the times, and the new episode of her dangerous journey - Tomb Raider: Legend - is no exception. Modern graphic technologies have brought the charming appearance of the heroine to almost perfection. And scientific progress has made it possible to equip with the latest technology.
Game Features:
The beginning can be deceiving! Lara's new adventures will begin in the tropical jungles of South America, but you will never guess where they will end. The brave hunter is waiting for a meeting with the ghosts of her rich past, which will turn out to be not ghosts at all ... Tomb Raider: Legend will tell the most intriguing story in the entire existence of the series.
Even easier, even more graceful! The developers have radically revised the control and animation of the main character. Miss Croft's movements are now indistinguishable from the graceful steps of professional dancers, and it is easy and convenient to control her actions.
Diversity is the key to success. During her life, Lara has been in various troubles, but there is still a lot of interesting things ahead. To pass all the tests of Tomb Raider: Legend with honor, the beauty uses a huge arsenal of modern weapons, various vehicles and martial arts techniques. Well, her dizzying jumps and somersaults have long become a byword!
Wildlife, real world! Modern graphics and a realistic physical model have breathed life into the open spaces surrounding Lara. Nature lives and breathes, game levels are not created specifically for the adventures of the heroine, they are part of a full-fledged world.
---
GAME INFO
---
Game name:
Tomb Raider: Legend
Platform:
PlayStation Portable (PSP)
Developer:
Buzz Monkey Software
Publisher:
Eidos Interactive
---