The game - Tony Hawk's Project 8 - PlayStation Portable | PSP
750 games PlayStation Portable



---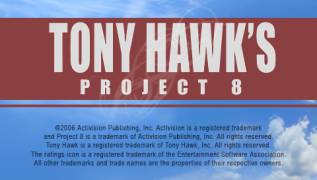 Tony Hawk's Project 8
PlayStation Portable - PSP
Feel the freedom, not limited by anything but gravity. Tony Hawk's Project 8 is a new look at street sports, in which there is no room for invented rules. Only your imagination dominates here! Dare to make incredible jumps to get to secret places? Can you handle multi-level ski jumps? Everything is possible in the world of skateboarding! Get your board ready and don't forget to put on your helmet! Tony Hawk and his friends are already waiting in the yard!
The battle for dominance has intensified! The strongest athletes in the world have gathered on the arenas of skateboarding competitions. Candidates for the title of champion are in no hurry to give up their places in the standings! Every victory comes with difficulty!
Skateboarding is not only a sport! You can drive around the city at your own pace, take part in fun mini-games or go in search of the secret areas of the modern metropolis!
Film and photo sessions! Grab a spot on the cover of glossy magazines by participating in acrobatic photo shoots. The most experienced skateboarders will even be able to work on the film set!
Honor and respect! For the first time in the history of the series, you must not only perform incredible tricks, but impress the audience and bystanders with them. The respect of others is worth its weight in gold!
A sprained hand is better than a broken hand! Falls are inevitable. But now you have the power to influence the athlete's landing and soften the blow. Be careful, an offensive mistake should not be an inglorious end to your career!
Nobody canceled the force of attraction! With new physics, the game has become even more believable. Athletes take to the air, tumble and return to the ground with the grace of real skateboarders.
Everything seen on the screen can be repeated in real life! True, without special preparation it is better not to do this. The movements of virtual heroes copy the tricks of real athletes in great detail.
---
GAME INFO
---
Game name:
Tony Hawk's Project 8
Platform:
PlayStation Portable (PSP)
Developer:
Page 44 Studios
---