Game description UEFA Euro 2008 - PlayStation Portable (PSP)
In the base 750 games PlayStation Portable



---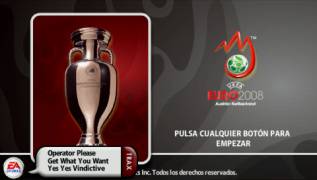 UEFA Euro 2008
PlayStation Portable - PSP
European Football Championship & mdash; incredibly gripping show. Fans wait for a grandiose tournament as a holiday, it & mdash; time heated to it is white passions, time of victories and disappointments! And now & mdash; it also time for a game. Thanks to UEFA EURO 2008 you have a chance to lead any of 52 national teams to the victory. The championship which is taking place in Austria and Switzerland is developed with your direct participation. Now you can not only support the favourite, but also shoulder to shoulder overcome with him all stages & mdash; from qualification prior to the final. Treasured cup already absolutely close! & nbsp;
But road to triumph will be hard: in the European championship only the best of the best are presented, rivals battle as furious wolves! And even weather gives unexpected surprises, the rain or fog can affect a match outcome considerably. You should consider all nuances to reach a desired award. The national team waits for you, so show everything that means to be the real captain!
your admission in champions. You can win the European Football Championship and lead one of 52 teams to the victory.
Become
the real captain. Three persons can play at the same time with you for the same team. Unique qualities of everyone and ability to coordinate actions & mdash; here way to a victory! But at the same time you have to fight with each other for the captain's rank. Eight statuses separate the beginner from the right to be called the leader: work on yourself, and the destiny of the national team will appear in your hands!
Be transferred by
to a game! Your character easily turns into your exact copy: apply own name on a form, and then by means of the scored points make of the football player of the real champion.
Grandiose tournament. Represent the country in world league to win the right to be called the best. Individual and command points which are scored in tournaments will help you to create football club of the dream. You consider that your national team the best? Now you can prove it!
of the Penalty as art. To perform a penalty kick & mdash; whole science. Check the skills and fortress of nerves & mdash; dramatic nature of a situation is reproduced to the smallest details!
Dance of joy. Each scored goal & mdash; reason for genuine joy. Operating the player, you will be able to show gestures to stands the emotions and & laquo;
---
GAME INFO
---
Game name:
UEFA Euro 2008
Platform:
PlayStation Portable (PSP)
---