The game - Untold Legends: Brotherhood of the Blade - PlayStation Portable | PSP
750 games PlayStation Portable



---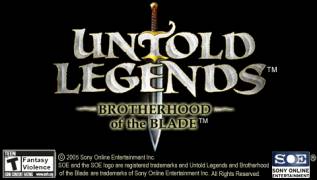 Untold Legends: Brotherhood of the Blade
PlayStation Portable - PSP
Here is the first and best role-playing game for the PSP portable entertainment system to date. The fate of Aven is in your hands - the city that seemed immortal and eternal, but overnight became the last and only stronghold of Good and Light in the magical world of Unataka. For the sake of saving the city and the whole world from death and destruction, a powerful Brotherhood of the sword is created, whose members do not know fear and fatigue in the fight against Evil and Darkness.
Choose any of the four heroes - a noble Knight, a powerful Alchemist, a wise Druid or a merciless Berserker. Depending on the choice, different game scenarios and different adventures await you in a world full of magic and danger.
Featuring over 100 playable areas and unique graphics, dynamic visual lighting and shadows showcase the power of the PSP platform. Passing the game over and over again, you will not recognize the world around you. The PSP will randomly create new quests and play areas for endless magical adventures...
You have to pave the way to the Light and Goodness with the blade of the sword and the fire of spells. Over 150 varieties of terrifying monsters are out for your blood. You will have to fight not only with them, but also with huge "bosses" - the most powerful opponents in the game, with different habits and skills.
The game has a huge number of objects, weapons and magical artifacts. You will be able to find treasures and receive rewards for completing complex game tasks (25 main and 20 secondary).
Multiplayer mode is supported - up to 4 players simultaneously via Wi-Fi. Players can join forces and complete complex tasks together, or find out in a hot fight who is better at magic and sword.
---
GAME INFO
---
Game name:
Untold Legends: Brotherhood of the Blade
Platform:
PlayStation Portable (PSP)
Developer:
Sony Online Entertainment
Publisher:
Sony Online Entertainment
---