The game - Valkyria Chronicles II - PlayStation Portable | PSP
750 games PlayStation Portable



---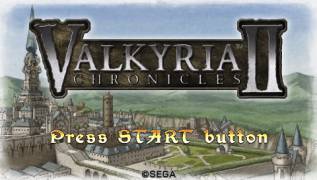 Valkyria Chronicles II
PlayStation Portable - PSP
Earth. Alternative reality. 40s of the twentieth century. Gaul is a small country in the center of Europe. By a tragic coincidence, it is this peaceful border region that turns out to be the arena of war. Two years ago, the Eastern European Alliance and the Atlantic Federation clashed here, and now civil war has swept Gaul.
A group of students of the military academy will have to oppose the revolutionaries who started the coup. A story of love, friendship and growing up set against a backdrop of destruction and death in the tactical role-playing game Valkyria Chronicles 2.
Your own war.
With 30 new units that increase in levels and change as the game progresses, and over 200 missions, the battle for Gaul promises to be interesting and intense.
Unfading beauty.
The "CANVAS" engine developed by SEGA for the first Valkyria Chronicles has been completely redesigned with PSP in mind. This made it possible to recreate all the graphic beauty of the original game on a portable platform, as well as add new animations for the characters and improve the appearance of the surrounding landscapes.
The freedom of action.
The redesigned combat system "BLiTZ" gives players complete freedom of action. For the first time in the history of tactical role-playing games, heroes move freely, can choose the most convenient position for attacking and attack the enemy in real time.
All types of Gaul.
Players will have to fight on 30 battlefields and visit 10 game zones.
If a friend turned up suddenly.
The new multiplayer mode allows you to complete tasks with friends, and fight against them.
---
GAME INFO
---
Game name:
Valkyria Chronicles II
Platform:
PlayStation Portable (PSP)
---