The game - Valkyrie Profile: Lenneth - PlayStation Portable | PSP
750 games PlayStation Portable



---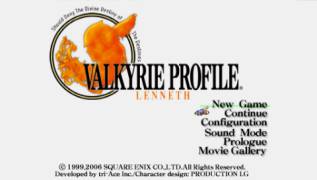 Valkyrie Profile: Lenneth
PlayStation Portable - PSP
Several years have passed since the release of the original version of Valkyrie Profile on PS one, and during this time the game has managed to gain cult status. Fans remember it with delight on online forums, collectors raise prices for a disc at online auctions, journalists sigh: "There were games ...". And it is not surprising that, having taken on a remake of Valkyrie Profile, Square Enix employees did not change anything (but added a dozen gorgeous videos). In general, if anyone remembers the PS one game, they are unlikely to find something new for themselves.
The gameplay, combat system and story, all this in the game remained the same. Even the graphics were not modified or improved, unless, of course, we count the fact that the picture was adjusted to fit the PSP widescreen. Well, at least they got rid of the pixels, which somewhat spoiled the impression in the old days. True, they did their best here, they just smeared, malicious pixels, which is why the picture sometimes looks too "blurry".
The special effects during the battles look very nice, and many monsters, by the way, are perfectly drawn, sometimes even better than the main characters. And yet, being Valkyrie Profile: Lenneth is just "nice", do not forget, these are just nitpicks (in detail) to one of the highest quality and visually pleasing games of the 32-bit era.
The gameplay mainly consists of finding mercenaries and recruits for the Asgardian army, and then training them in various dungeons. The search itself takes place in a "semi-automatic mode", and practically without our participation. Plunging into a trance, the Valkyrie tries to hear where something is wrong, after that it remains only to fly to a given "hot" spot, view a string of plot scenes about the sudden death of the future einherjar (einherjar) and get a new dead man under his command.
The battles are turn-based, but so fast that sometimes it seems as if the PSP screen is not an RPG, but some kind of fighting game. Each character is assigned a specific button and in battle you can press them in any order. However, the fact is that not quite the right order of actions will not lead to anything outstanding, or even completely ruin the whole thing. Conversely, if you issued the commands quickly and in the correct order, you will get a great combination of powerful blows and special attacks that will make any evil spirits stumble.
Undoubtedly, the creation of Square Enix remains the only one of its kind and has no analogues among similar games in the genre.
---
GAME INFO
---
Game name:
Valkyrie Profile: Lenneth
Platform:
PlayStation Portable (PSP)
---