The game - Viewtiful Joe: Red Hot Rumble - PlayStation Portable | PSP
750 games PlayStation Portable



---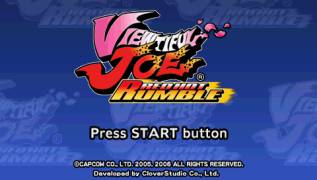 Viewtiful Joe: Red Hot Rumble
PlayStation Portable - PSP
Probably, many people like to watch films about superheroes, and some of you even dream of being in their shoes and fighting face to face with any villain or scoundrel. In this game from Capcom, you will have the opportunity to both get into the shoes of a hero and fight a villain, and star in a movie, and not even one.
Someone Captain Blue (Captain Blue) once decided to shoot a super-blockbuster about the struggle between good and evil, about the battle of black and white! But, here's the bad luck, to choose one of the huge number of the most self-made heroes for the main role, the task is very difficult. But ingenuity, as before, again helps out the elderly super hero. He decides to host a tournament for aspiring supermen, and the winner of the competition will be given the greatest honor to play the title role in the upcoming blockbuster.
Although the game Viewtiful Joe: Red Hot Rumble bears the name of one of the heroes, this does not at all oblige you to complete the story mode exclusively for him, moreover, by changing the character, you will not have to go through everything all over again. As you progress through the story, new characters will open up for you and, of course, each of them will have their own set of tricks. Each of the missions is a small "plot" consisting of three scenes, at the end of which a boss is waiting for you. Each of the scenes, in turn, is divided into three "takes". Naturally, the concept of a double in this case is somewhat different from that which exists in cinema, and is rather a level. In each scene, you must complete a certain list of requirements, completing which you get access to a new scene.
Since the whole tournament revolves around super heroes, as always, there were some super powers. To activate them, you can knock out special spheres from special boxes, the so-called VFX forces. The selected sphere can be activated at any time convenient for you, and at the same time you can store several such spheres that will follow you so that you do not forget about them. Spheres can contain various effects, such as speeding up, slowing down, or increasing in size. In zoom mode, you become less sensitive to damage inflicted on you, your strength increases, but you will have to forget about super hits for the duration of the sphere. The Orb of Slow affects your enemies, whether they are rival heroes or a variety of villains. And the sphere of acceleration will give you the ability to fly in flames throughout the location,
The game turned out to be bright, colorful and will definitely not let you get bored. And if you are bored with the leisurely process of other games, you can definitely like Viewtiful Joe: Red Hot Rumble.
---
GAME INFO
---
Game name:
Viewtiful Joe: Red Hot Rumble
Platform:
PlayStation Portable (PSP)
---