The game - Warhammer: Battle for Atluma - PlayStation Portable | PSP
750 games PlayStation Portable



---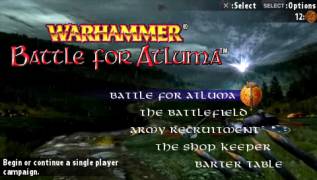 Warhammer: Battle for Atluma
PlayStation Portable - PSP
Battle for Atluma is a video game based on the tabletop trading card game. Therefore, there is no noticeable difference between the PSP game and its desktop original. The game perfectly carried over the rules of the Warhammer tabletop world, despite the relatively drab and boring gameplay.
The mechanics of the game are familiar to those who have already encountered Trading-card games (TCG). You collect your deck of troops and tactical cards, and go into battle. The cost of each card is calculated based on strength, tactics, leadership, spell points, and other abilities. After choosing an attack and defense card, the battle begins and you play tactics cards to strengthen your troops. Once each player has completed their turn, a die is rolled and a winner is chosen based on the final strengths of the cards.
Features such as "break check" and "block check" add strategic depth to the game, but even if you're new to WarCry, Battle for Atluma game-torrento.org is pretty easy to master in 1.5-2 hours of play. The campaign is a battle with representatives of various factions: orcs, elves, humans, dwarves and chaos.
All cards in the game are exact replicas of their physical counterparts. After the battles, you will receive gold, which you can spend on new cards. You can fight with other players in a special mode, as well as exchange cards with them.
---
GAME INFO
---
Game name:
Warhammer: Battle for Atluma
Platform:
PlayStation Portable (PSP)
Publisher:
Namco Bandai Games
---