Game description Warriors of the Lost Empire - PlayStation Portable (PSP)
In the base 750 games PlayStation Portable



---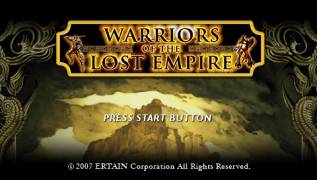 Warriors of the Lost Empire
PlayStation Portable - PSP
Warriors of the Lost Empire is an action-PRG which action is developed on the fenteziyny earth. Many years ago on this place was the city is founded by the Emperor Hadrianus. But somehow time the Emperor is locked in the temple and then in the city panic begins.
the City various ill-wishers and awful beings begin to attack
. Then the special group of voyn was sent to this city to establish in it an order.
the Player chooses by
one of four heroes, it can adjust each of which at discretion.
in process of passing, the player receives new skills and abilities. In this world there is the whole heap of the vaults open for a research. They are filled with opposite creatures and terrible bosses against whom it is required to win.
---
GAME INFO
---
Game name:
Warriors of the Lost Empire
Platform:
PlayStation Portable (PSP)
Publisher:
UFO Interactive Games
---