The game - Warriors Orochi - PlayStation Portable | PSP
750 games PlayStation Portable



---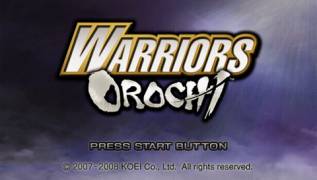 Warriors Orochi
PlayStation Portable - PSP
Dynasty Warriors and Samurai Warriors will finally meet in the same game. In the action game Warriors Orochi, warriors from both series will have to join forces to face a new enemy.
Without warning, the Serpent King Orochi launched an invasion. Using his immense power to shatter space and time, Orochi kidnapped the strongest and most courageous warriors of Ancient China and Feudal Japan in order to test their skills against his best warriors. None of the armies could resist the power of Orochi. There were fewer and fewer heroes left on earth who continued to resist the Serpent King.
Warriors Orochi will feature 77 playable characters from the Dynasty Warriors and Samurai Warriors universes and 4 varied storylines. The game will have new combat systems Team Battle System, as well as Weapon Fusion, which will combine the unique capabilities of different types of weapons in one attack. For the first time, you will be able to create your own team of heroes from three different characters - while one fighter will fight, the rest of the team members will be able to improve their health.
---
GAME INFO
---
Game name:
Warriors Orochi
Platform:
PlayStation Portable (PSP)
---