The game - Warriors Orochi 2 - PlayStation Portable | PSP
750 games PlayStation Portable



---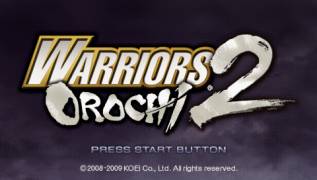 Warriors Orochi 2
PlayStation Portable - PSP
Some time ago, the evil snake king Orochi kidnapped the warriors of two clans: DYNASTY WARRIORS and SAMURAI WARRIORS to test their strength. However, the Heroes eventually defeated Orochi and his army... But at this time, while the murdered Orochi languishes in hell, some mysterious alliance is plotting a cunning plan - to revive Orochi and return him to earth.
And now a new group of brave warriors will have to fight the forces of evil and prevent the return of Orochi!
The events of the game Warriors Orochi 2 take place after the events of the first part. The main story of the game follows the realms of Wu, Wei and Shu, as well as SAMURAI WARRIORS. The game contains about 90 already known characters, new storylines and new game modes.
---
GAME INFO
---
Game name:
Warriors Orochi 2
Platform:
PlayStation Portable (PSP)
---