The game - Weiss Schwarz Portable: Boost Schwarz - PlayStation Portable | PSP
750 games PlayStation Portable



---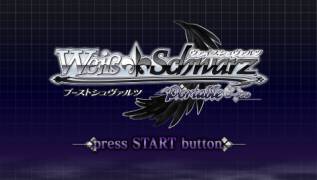 Weiss Schwarz Portable: Boost Schwarz
PlayStation Portable - PSP
Namco Bandai ported the Weiss Schwarz card game to the PSP. So what if we haven't seen enough of these card games? For fans of Japanese works, Weiss Schwarz is a rather interesting project. The fact is that on the maps of the game you can find many representatives of games and Japanese animation!
In addition to the card system itself (each card has its own properties and can affect the course of the battle in different ways at any given time), an adventure part with dialogues and city exploration has been added to the game. There will be more than 1000 different cards in the game.
Among the heroes depicted on the cards, you can meet characters from the following works:
Persona 4;
The Melancholy of Haruhi Suzumiya;
Angel Beats;
Magical Girl Lyrical Nanoha;
The Idolm@ster;
Fate/stay night;
Macross F;
Fairy Tail;
Shakugan no Shana;
Toaru Majutsu no Index and many more...
---
GAME INFO
---
Game name:
Weiss Schwarz Portable: Boost Schwarz
Platform:
PlayStation Portable (PSP)
Developer:
Namco Bandai Games
Publisher:
Namco Bandai Games
---