The game - Wild Arms XF - PlayStation Portable | PSP
750 games PlayStation Portable



---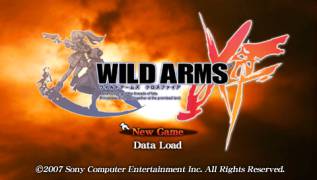 Wild Arms XF
PlayStation Portable - PSP
Due to a cataclysm that happened in a long, forgotten past, the bright world of Filgaya is slowly dying. The entire population is drawn into an endless war for the remaining crumbs of natural resources. And only one kingdom has not plunged into general chaos and endless war - and his name is Elesius. However, due to the mysterious illness of the ruler, the kingdom of Elesius is slowly plunging into anarchy. Adding fuel to the fire is the fact that the legitimate heir disappeared a year earlier and was declared dead. The senate of the kingdom did not miss the opportunity to take advantage of such a slippery situation - it forms its own police forces and gradually takes away power from the royal house. And against the background of all these political intrigues and unrest, the main character of the game appears - Clarissa Arvin, who is accompanied by her half-brother and protector - Felius. Together they infiltrate Elesius, on the trail of Rupert Dandridge, the man who killed her mother. And what began as a personal vendetta soon escalates into an epic battle not only for the kingdom of Elesius, but to save the entire world of Filgaia from becoming a barren wasteland.
Features of the game:
* An innovative system of delimiting the battlefield into hexagons allows you to use advanced options for building soldiers in the game, in contrast to the traditional division of the battlefield into squares.
* One of the longest-running strategies on the PSP - more than 60 missions with a variety of tasks in company modes and many solo battles.
* An almost endless squad of heroes to choose from, with over 20 unique classes and professions to choose from, including: Berserker, Elementalist, Fighter, Geomancer, and Sacred Slayer.
* An extensive selection of materials to create more powerful: weapons, books of magic and armor.
* Exclusive selection of music specifically for the US version with the ability to select any of the 20 tracks right during the game.
---
GAME INFO
---
Platform:
PlayStation Portable (PSP)
---