The game - Wipeout Pure - PlayStation Portable | PSP
750 games PlayStation Portable



---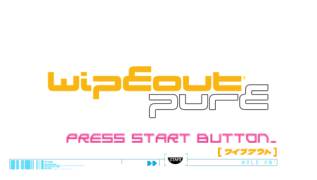 Wipeout Pure
PlayStation Portable - PSP
In 2197, only two things matter - the speed of your anti-grav ship and the power of its weapons. You have to become a member of the most prestigious and dangerous racing league of the future - FX300 Racing League. This is a survival race where the winner takes all, and the loser burns out, turning into a stream of hot plasma.
Unique graphics and visual effects will take you to a fantasy world of the future, almost two centuries ahead. A variety of game modes will allow you to enjoy the speed of racing, regardless of how much time you have at your disposal - a few minutes or a few hours.
12 new high-speed tracks created specifically for the PSP version, and 4 updated classic tracks familiar to fans of the supersonic anti-gravity WirEout series from the game released for the PSONe platform.
8 anti-gravity ships, each of which has its pros and cons. Learn the tricks and you will be able to quickly overtake your opponents in the most difficult areas and easily evade attacks. Become the best anti-grav pilot of the future!
When collecting weapons, you will be able to choose - to fire at enemies and thereby reduce their speed, or use the received energy to increase the speed of your own ship.
You will be able to write a copy of the race to the Memory Stick memory card and then compete in Ghost Racing mode with the most difficult opponent - with yourself. With the help of a Memoru Stіck memory card or via Wi-Fi, you will be able to exchange score tables and race records with your rivals.
The game will never get bored and will always be varied. Developers are constantly creating and releasing add-ons to it - dozens of new tracks, anti-gravity ships, etc. are available for download from the WirEoutPure website for free. Add-ons are stored on the memory card.
Exclusive electronic soundtrack - 20 musical compositions from Archex Twins, Рhotek, Tiestо and other stars of modern electronic music. In addition, over 40 new songs can be downloaded via the Internet. Music is stored on the memory card.
Multiplayer mode is supported - up to 8 players simultaneously via Wi-Fi.
---
GAME INFO
---
Platform:
PlayStation Portable (PSP)
Developer:
SCE Studio Liverpool
Publisher:
SCEA/SCEI/SCEE
---