The game - World Championship Poker 2: Featuring Howard Lederer - PlayStation Portable | PSP
750 games PlayStation Portable



---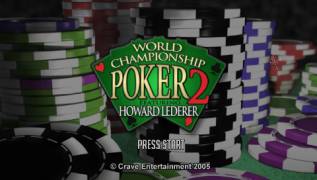 World Championship Poker 2: Featuring Howard Lederer
PlayStation Portable - PSP
If you like poker, then now you have a great chance to play one of the final games of the international championship for this wonderful game. The game will let you play your own way through a series of games in the World Poker Championship 2 where you can take part in ten international casinos and earn the highest places in the rankings of the strongest.
You will have the opportunity to beat twenty of the most titled poker players on the planet, each with their own unique playing style and technique. Climbing the tournament ladder will not be easy, but the prize you will get is not small. The game has carefully worked out the tense atmosphere of the competition, and the characters have very animation. Virtual opponents know how to skillfully bluff, and from time to time they can even cheat.
In general, if you decide to start playing poker for money, then you will not find a better tutorial than World Championship Poker 2: Featuring Howard Lederer.
---
GAME INFO
---
Game name:
World Championship Poker 2: Featuring Howard Lederer
Platform:
PlayStation Portable (PSP)
Developer:
Crave Entertainment
Publisher:
Crave Entertainment
---