The game - Brooktown High - PlayStation Portable | PSP
750 games PlayStation Portable



---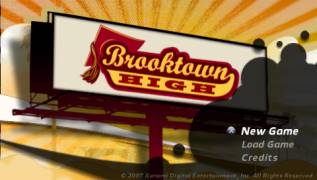 Brooktown High
PlayStation Portable - PSP
Have you ever wondered what life would be like if you were an order of magnitude better at school? Who knows how reality would change if you didn't skip classes for football matches in the yard. In the real world, the past cannot be returned, but in the virtual world everything is possible. Brooktown High: Senior Year lets you relive your high school years! This is a great chance to become a high school student again, meet familiar teachers and once again get an "undeserved" deuce!
During the full academic year during which you will attend Brooktown High School, many interesting events will occur. Skirmishes with bullies, mockery of bores, "overwhelmed" control tests, calls to the director, first love and a reverent date - from the height of past years, the school seems not to be hard labor, but a bright particle of a golden childhood!
Create your student. Both a girl and a boy can become a student, the appearance of which you choose yourself. Think of a hairstyle, buy stylish clothes, and classmates will gasp at your appearance. Good looks will help you make new friends!
Building relationships isn't easy. Each student has his own unique character, temperament and habits. Some easily make contact, while others prefer not to communicate, or even start a fight. But do not rush to use force, because it is not for nothing that teachers tirelessly say that any problem can be solved peacefully.
School is not only thick books. Study is study, but you also need to rest! Outside the schoolyard, there are plenty of interesting places where you can have a great time. Cinemas, shops, restaurants - choose where and with whom you will go after or instead of lessons!
Difficult but interesting! The granite of science is not easy for anyone. To maintain academic performance at a decent level, you have to think with your head! A lot of entertaining mini-games will diversify student everyday life.
---
GAME INFO
---
Game name:
Brooktown High
Platform:
PlayStation Portable (PSP)
Developer:
Backbone Entertainment
---