The game - World Series of Poker 2008: Battle for the Bracelets - PlayStation Portable | PSP
750 games PlayStation Portable



---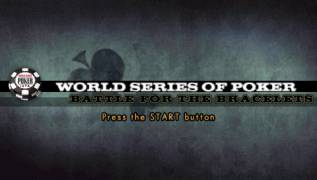 World Series of Poker 2008: Battle for the Bracelets
PlayStation Portable - PSP
Tense waiting, close study of your opponents, unimaginable intensity of passions and huge stakes - a game of poker has more than once put an end to the lives of unfortunate players, but crazy excitement continues to attract new fans. Where else can you lose everything in an evening or become a millionaire? Any gesture, any even slightly noticeable movement is of great importance here, the inability to control oneself will give out a beginner with giblets and give an experienced gambler all the necessary information to win.
However, in "World Series of Poker 2008: Battle For The Bracelets" you can safely sit down at the table - you will not lose a cent, but you will get an adrenaline rush for the whole day and master the rules of the game in great detail. Several varieties of poker, a huge selection of casinos and legendary rivals will turn this card season into an unforgettable entertainment. Now you have a unique opportunity to compete with famous players who have won more than once in international poker tournaments!
Game Features:
Real Poker!
The gambling table is not a place for pity for an opponent or high feelings. There is only one goal - victory, and it is achieved at any cost. There is a lot of money at stake, and be sure that the loss will not go unnoticed, because card debt is never forgiven. "World Series of Poker 2008: Battle For The Bracelets" is the only poker simulator created with the official support of the organizers of the legendary championship.
Passion Hurricane!
Only here you will experience real emotions: the excitement of victory and the bitterness of defeat.
Inimitable sound!
Professional and well-known commentators in the poker world participated in the work on the game.
The best casinos!
Anyone who is ready to spend millions in an evening will not play in a dirty eatery. Championships are held in the most expensive casinos around the world. You will see Paris and Las Vegas, feel the real style and luxury of the best gambling clubs.
eminent rivals.
You are opposed not by beginners, but by famous titled players. Thirty-three living legends take part in the games, including Ferguson, Harman, Khachem and Cloutier.
Tension at the limit.
The ability to read faces in poker is valued above all else. The virtual operator periodically gives a close-up of each opponent, so you always have a chance to predict the further course of the game by the subtle movement of the lips or eyes.
Poker for all tastes...
There are several card games to choose from: Omaha, Razz, Seven Card Stud and Texas Hold 'Em. And in the new No Limit Hold 'Em mode, you decide the rules of the tournament.
Cards with friends.
After defeating eminent opponents, try a multiplayer game, because it is possible that your neighbor understands poker better than the legendary champions!
---
GAME INFO
---
Game name:
World Series of Poker 2008: Battle for the Bracelets
Platform:
PlayStation Portable (PSP)
Developer:
Left Field Productions
---