The game - World Series of Poker: Tournament of Champions - PlayStation Portable | PSP
750 games PlayStation Portable



---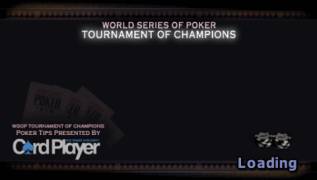 World Series of Poker: Tournament of Champions
PlayStation Portable - PSP
Poker, like any other game of chance, can be considered a drug that you can get used to in a matter of hours. And then, if the player is inexperienced or not lucky enough, he risks losing everything, right down to his clothes - if the opponents agree to accept such a bet. But you have a different fate. By becoming a member of the Circle, a closed club of professional players, and having Chris "Jesus" Ferguson as a mentor, you will reach the heights of the gambling world. The main goal is to get an invitation to the Tournament of Champions in Las Vegas, which will bring together the most experienced and lucky players on the planet. Joseph Hacham, Jennifer Tilly and other "big poker" legends will challenge you. Defeating them will not be easy, but having won the victory, you will become the absolute champion.
Star composition. World Series of Poker: Tournament of Champions features more legendary champions than any other game. Scott Fishman, Clowny Gowan, T.J. Clotier, Eric Seidel, Antonio Esfandiari - a total of two dozen professionals will be with you at the same gambling table. Norman Chad and Lon McEshern, well-known to professional players and poker fans, are invited as commentators.
Live and learn! World Series of Poker: Tournament of Champions is not just a continuation of the World Series of Poker, but a project that opens up new facets of a familiar game. The knowledge you gained in the previous episode is only enough for a friendly game with friends. To become a real professional, you need to carefully listen to your mentor, five-time international champion Chris "Jesus" Ferguson. He will share many combinations and tricky tactics, although no one forbids you to develop your own style of play.
Every victory is a valuable experience! The more games you play in your favor, the more valuable skills you will acquire. True pros easily get access to important information about opponents, which can be the key to the biggest victory.
Tournament between consoles! PS2 and PSP owners can play with each other by connecting the consoles. You can also freely transfer all data about your character from platform to platform.
---
GAME INFO
---
Game name:
World Series of Poker: Tournament of Champions
Platform:
PlayStation Portable (PSP)
Developer:
Left Field Productions
---