The game - WTF: Work Time Fun - PlayStation Portable | PSP
750 games PlayStation Portable



---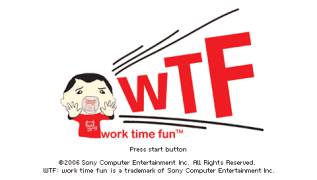 WTF: Work Time Fun
PlayStation Portable - PSP
WTF: Work Time Fun is a collection of crazy mini-games for every occasion. The gameplay is built in the form of being hired for a job and then being re-employed to a more fun and crazy position.
But we all know how hard it is to find a good job right now, so we have to work on what is offered - to lead the assembly line for stringing caps on handles, to become a guide for a blind man picking mushrooms on a freeway, to sort chickens, and much, much more.
One question remains on the agenda: "What were the developers smoking?"
Features of WTF-Work Time Fun :
Over 30 crazy jobs mini-games to keep you entertained.
Real classic arcade gameplay.
Good performance is encouraged. Achieve good results, and you will be offered a new "position".
Useful "chips" for your PSP. Discover special mini-programs that will expand the capabilities of your console and impress your friends.
---
GAME INFO
---
Game name:
WTF: Work Time Fun
Platform:
PlayStation Portable (PSP)
Developer:
SCE Japan Studio
---