The game - WWE SmackDown vs. Raw 2008 - PlayStation Portable | PSP
750 games PlayStation Portable



---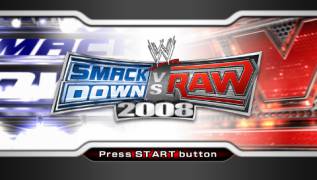 WWE SmackDown vs. Raw 2008
PlayStation Portable - PSP
WWE SmackDown vs. Raw 2008 introduces the Superstar Fighting Styles system, which allows players to choose their own fighting style. In total, the game will have 8 unique styles, each of which will have exclusive techniques. Another innovation, the Superstar Fighting Styles system, allows players to take intuitive control of WWE stars. The main points of the gameplay were realism and, which sounds rather strange, strategy. Players finally got the opportunity to choose the strength of strikes and tricks using analog control. Of course, creating a game under license implies the presence of WWE SmackDown vs. Raw 2008 the most popular stars of the show called "wrestling", arenas and "legal" weapons.
- Superstar fighting styles! They will allow you to choose one of 8 ways of conducting battles, which ensures the uniqueness of each new battle. Each style has its own unique strategy - exclusive moves, abilities, fixtures, and more. Take the fight into your own hands and feel the power of the Superstar.
- Battle management system! The new control system gives players the ability to intuitively and naturally control WWE fighters by bringing action realism to the fore, so players can now control their hero's every gesture.
- WWE 24/7 mode! Combining the popular Season and General Manager modes from previous Smackdown vs. Raw, WWE 24/7 mode includes all the stresses of a Superstar's life. Numerous character development options, starting with his career management, will be provided at the mercy of the players in order to allow them to grow to the level of a Legend of Wrestling!
- Fans get what they want! WWE Smackdown vs. Raw 2008 features many updates and downloadable content, including new battle schedules, more realistic battlefields, improved adventures, improved online support and much more!
---
GAME INFO
---
Game name:
WWE SmackDown vs. Raw 2008
Platform:
PlayStation Portable (PSP)
---