Game description Brunswick Pro Bowling - PlayStation Portable (PSP)
In the base 750 games PlayStation Portable



---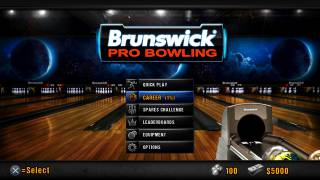 Brunswick Pro Bowling
PlayStation Portable - PSP
Brunswick Pro Bowling - the excellent simulator of bowling, allows players to choose all characteristics and accessories, independently, as a result to win a cup. In Career, players will pass a way from the fan to the professional, competing with other pretnedenta, and also participate in various tournaments. To four players can try forces in the Multiplayer.
---
GAME INFO
---
Game name:
Brunswick Pro Bowling
Platform:
PlayStation Portable (PSP)
Developer:
Point of View, Inc.
Publisher:
Crave Entertainment
---