Game description X-Men Origins: Wolverine - PlayStation Portable (PSP)
---
---
---
---
In the base 750 games PlayStation Portable



---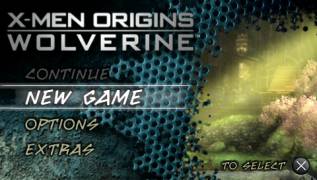 X-Men Origins: Wolverine
PlayStation Portable - PSP
Thanks to comics, movies and games mutants Ickx's People are known to much. But what you can tell about each of them? To remember a nickname, to characterize unique abilities - here, perhaps, and all. X-Men Origins: Wolverine offers a unique opportunity to get acquainted much closer with one of the most picturesque fighters of team - the Glutton.
the Game is based by
on the movie of the same name which sheds light on the past of the hero. Virtual fighter X-Men Origins: Wolverine partially repeats picture events, but also goes also beyond its framework. You learn as well as for what it was created the Glutton who tried to operate it and as the fighter found freedom, and also will open other gloomy and frightening secrets of his past. However the way to the truth will be not simple. To survive in fights with numerous opponents, all its abilities - remarkable dexterity, impressive force and sharp claws will be necessary for the Glutton.
Storm fighter.
Life of the Glutton is a continuous fight. You should cope alone with the whole groups of forwards, to fight at ten-kilometer height, to jump via the rotating blades of the helicopter and to make a weight more of the tricks inaccessible to the mere mortal.
More than one hundred receptions.
the Glutton has skill of infighting with use of adamantovy claws down to a science. It cuts, pierces and cuts enemies, without leaving to them the slightest chance. Besides the hero perfectly jumps - the lightning throw is used for the attack of the opponents who are not approaching on a blow distance.
Indestructible soldier.
Wounds and fractures at the Glutton heal literally in the eyes. Inhuman resistance of its organism to damages and tremendous speed of regeneration allow the hero to work risky and extremely.
Fly into a rage!
In this state to the character the new methods and combinations of blows turning it into the perfect car for murder open.
Animal intuition.
to find a weak point at the enemy, to get tactical advantage and to solve the puzzle which arose on the way, the Glutton uses the animal intuition.
---
GAME INFO
---
Game name:
X-Men Origins: Wolverine
Platform:
PlayStation Portable (PSP)
Developer:
Raven Software
---