The game - Yu-Gi-Oh! GX Tag Force 2 - PlayStation Portable | PSP
750 games PlayStation Portable



---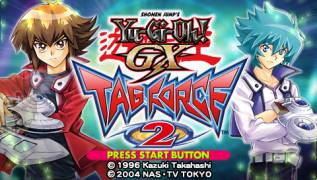 Yu-Gi-Oh! GX Tag Force 2
PlayStation Portable - PSP
Since ancient times, cards have been one of the favorite entertainments. During the game, someone's fate was decided, entire fortunes were squandered and lucky ones appeared who hit an unprecedented jackpot. But there are other cards with unusual rules. Greedy people are not fond of them, there is no envy and enmity in them, rivals will not attack each other because of a pair of gold coins. The spirit of magic and magic reigns here, here you can come into contact with the unknown, become the ruler of an entire empire, or be cast down to Tartarus. Entire armies, unprecedented creatures and powerful spells are enclosed in cardboard rectangles. Join millions of players around the world and lead your invincible army into battle!
Yu Gi Oh! GX Tag Force 2 will be a real guide to a fascinating and wonderful world for you. With the help of an easy training system, you will instantly get comfortable with all the nuances and will be able to compete on equal terms with any opponents. The mysterious Duel Academy opens its doors to you, inviting you to the World Tournament. An epic battle is coming, get ready to clash with insidious opponents and powerful armies, enlist the support of true friends and associates. Remember, you have only one goal - victory!
Huge deck . You have 2500 cards at your disposal. In this huge, by the standards of any game, the number fit a lot of different characters and spells that turn any battle into an intense and exciting spectacle. Unique sorcery, incredible armies, rare creatures, epic heroes - they all find their place in battle.
Passions are heating up . Behind the scenes of the tournament, intrigues are woven, lucrative deals are concluded and former alliances are terminated - everyone dreams of winning at any cost. Unexpected plot twists will not let you get bored, because the game is based on the popular series Yu-Gi-Oh! GX.
Expand your collection . Boring spells and "extra" creatures are not a problem. Your card collection will be constantly updated with the ability to download additional decks.
Team battles . You can play together! In collective battles, two teams of two participants each face each other in an irreconcilable struggle. Memorable battles, devastating spells and indescribable emotions - you get it all in double the size!
Cards as art . Each game card is a work of art. It depicts monsters, heroes and magical powers in great detail. Thanks to the widescreen console screen, you can see the pictures in all details.
---
GAME INFO
---
Game name:
Yu-Gi-Oh! GX Tag Force 2
Platform:
PlayStation Portable (PSP)
---